Home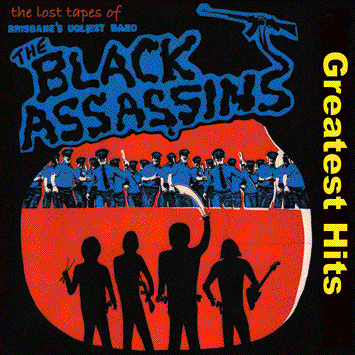 The Black Assassassins
Greatest Hits CD REVIEWS
I-94 BAR Review
"... If the idea of genuinely anarchic, crudely-fashioned punk rock threatens, don't read on. This is irreverrent, (loaded in more ways than one) agit-prop from one of brisbane's most notorious bands ..."
The Barman, I-94 BAR, December 2005. Read the full review
fasterLouder.com.au Review
"Sometimes you need a release like this to remind you that punk rock use to be ugly, insurgent, offensive, churlish, righteous and sloppy. The Black Assassins well and truly tick all the boxes. ..."
Houseboy, fasterlouder.com.au 17 December 2005. Read the full review

Time Off article
"Existing primarily in 1981 and 1982, the band's theatrical perfomances mixed with politically charged lyrics and shambolic punk rock ... "
Donat Tahiraj, TIME OFF, 7 December 2005. Read the full article

InPress Review
" ... Dubbed the lost tapes of Brisbane's Ugliest Band , the 13 songs were recorded in 6 hours with producer John Wilsteed who played in Xero at the time and later joined the Go-Betweens ... "
Jeff Jenkins, HOWZAT, INPRESS, December 2005. Read the full review

Melbourne Weekly Review
" ... So buy their CD ... or they'll rip your mother's heart out."
Richard Conrad, Melbourne Weekly, 16 January 2006. Read the full review

RAVE Magazine Review
" ... a raucous DIY approach to punk and politics liberally laced with shock rock satire, they assaulted the bastions of of corrupt corporate Queensland ... this is a strong testament to both the band and the times they came from."
Bill Holdsworth, RAVE Magazine, 31 January 2006. Read the full review

Time Off Review
" ... these 13 tracks represent their most potent songs of the sets they played around Brisbane halls and pubs at the time ... "
Donat Tahiraj, TIME OFF website, February 2006. Read the full review

The Electric Newspaper Review
" ... the Black Assassins' Greatest Hits rips with vibrant energy throughout. "
The Electric Newspaper website, February 2006. Read the full review

VICE Magazine Review
" ... a hilarious snapshot of Bjelke-Petersen era Brisbane punk throughout."
Dawn Gray, VICE Magazine, September 2007. Read the full review


PIG CITY, Brisbane, July 14th, 2007
" ... Soon after kick-off The Black Assassins make an impromtu appearance, thrashing 'Death Take Me Now' in balaclavas while band members, and audience (including at least one prominent writer) attack and destroy a mannequin strongly resembling the PM, while two of Qld's finest observe with curiosity. Hilarious and liberating--all live to air on ZZZ ... ... Highlights: Black Assassins' guerilla performance; Kev Carmody; The Saints from start to finish;"
Pixelated Semantics' review of the Black Assassins playing at PIG CITY, on the Autobody Blog, July 16, 2007, http://autobody.blogspot.com/. Read the full review
LIVE GIG REVIEWS FROM 1981 - 1983
"Bandwise, there was one very radical band that re-formed to play with us, called the BLACK ASSASSINS, who include as members people of all ages and cultural identification" says Jello Biafra of the Dead Kennedys on The Black Assassins supporting them at Festival Hall in Brisbane in 1983.
JELLO BIAFRA, Dead Kennedys Tour Down Under, Maximumrocknroll #10, 1983. Read the full article

"The Black Assassinsare undoubtedly the ugliest, vilest and most loathsome musicians to ever scar the stage with their presence. ... the lyrics and stage show were hilarious... "
RICHARD CONRAD, The Courier Mail, 20 July 1981 on The Black Assassins first gig at QIT Campus Club. - Read the full review
"... Few people survive an entire show. The Black Assassins are horrific. They are hideous to the eye. They are the incarnation of everything the Birthday Party dreamed of. One of them, singer Mohammet el Jackal, even crawled onto the stage and bit Nick Cave on the arm when the Birthday Party played at the New York Hotel. Despite numerous attempts I was unable to trace them to get an interview. ..."
IAN GREY, XChange Fanzine, early 1982. Read the full review

"They lay claim to the title, Brisbane's Ugliest Band and anyone who has seen them in concert will attest to this fact. ... Not only do The Black Assassins give the audience an earful they give them an eyeful as well. Their shows are not for those with weak stomachs. With such things as hacking stuffed dummies to bits ... fake blood, and on stage crucifixions, they not only sound ugly, they look ugly as well. Their show, noise levels and language was the reason they were banned the first time they ever played, … last year at QIT."
JENNY MAY, The Planet (QIT Student Newspaper), May 1982

"This was more than just a night of good music, it was an event. … Musical comparisons might variously include PiL, the Dead Kennedys and Surfside Six. But the overall effect – theatrics, humour, politics, singing (in the very loosest sense of the term) – was totally unique. …The crowd loved it, the participants loved it, but as for any club officials present, I'm not so sure. …. The memory of that night will linger long with all the witnesses."
– PETER MUDD, RAM (Rock Australia Magazine), July 1982 on The Black Assassins' Last Stand. Read the full review

" … this town's most notorious exponents of anarcho-punk … I over heard someone say the Black Assassins made the Dead Kennedys sound like Pink Floyd. … Who cares that they couldn't play or sing, they were still stars, still killers. …. Such is the stuff legends are made of."
– BILL HOLDSWORTH, JUKE , July 1982 on The Black Assassins Last Stand. Read the full review

"Posters designed by bands such as The Skeletones or the Black Assassins were threatening in both style and subject matter. The Black Assassins' music was deliberately unacceptable to traditional audiences and was distinguished by an anger and anarchistic defiance which appealed to the political subculture. .… The group defines itself as 'Brisbane's ugliest band' and the poster warns fans to 'Leave your dogs and babies at home'. "
– CLARE WILLIAMSON, 'Sign Of The Times' Exhibition Catalogue, QLD Art Gallery, May 1991.